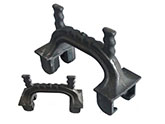 Features of Rail Anchor
Rail anchors are widely used in railway construction projects to prevent the movements of steel rails. Rail tie plates are welded to the top surface of the bottom flange of the steel rail. In general, rail tie plates... Read More>>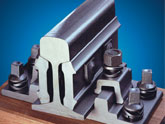 4 Types of Railway Accessories
AGICO can develop and manufacture different types of railway accessories,suchu as rail joint, rail fastening system, railway spike, tie plate, rail nut and washer and other rail fasteners. We can also manufacture customized and designed fast... Read More>>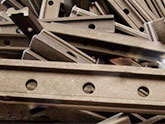 AREMA Standard Rail Joints for Sale
Quality of AGICO rail joints is guaranteed by a special heat treatment. When the train is running, rail joints (railway fish plates) play an important role in connecting and fastening rails as well as keeping the integrity of rails. While the speed an... Read More>>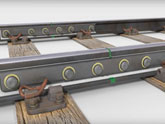 Design of UIC Standard Rail Joints
Rail Joint bar , also known as rail fishplate or splice bar is a metal bar that is bolted tthe ends of two rails to join them together. We have in-house rolling, forging, machining, punching facility ... Read More>>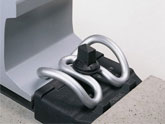 Railroad Clips Manufacturer
The railroad clip is used for fastening the rails and the tie plate on concrete sleeper. Using the material of forged spring steel, our rail clips are produced by hot forging process. Elastic rail clip offered by AGICO is very important ... Read More>>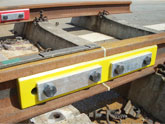 Rail Joints Manufacturers and Suppliers
AGICO can provide one-step service for various rail joints including development, manufacture and export service. With over 80% market share in China Railway field as railjoint We provide Semi-finished products without holes or finished prod... Read More>>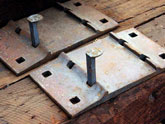 What is the Rail Pad ?
Rail Pad The rail pad , originally called sole plate, is used when rail is attached to concrete, rather than timber, ties or sleepers. Rail pads function to reduce fatigue cracking of the concrete ties, believed to be driven by impact and ... Read More>>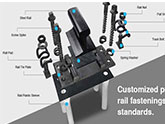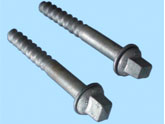 How Much Do You Know About Screw Spikes?
Railway screw spikes are usually used to fasten railway ties or sleepers and also they also can be used in conjunction with plastic ferrules, casted into concrete ties /sleepers. Rail screw spikes can be various in thread profiles, lengths, ... Read More>>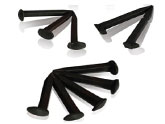 Dog Spikes - A Type of Railroad Spike
Dog Spikes - A Type of Railroad Spike A dog spike is functionally equivalent to a cut spike and is also square in horizontal section and of similar dimensions but has a pointed penetrating head, and the rail (or plate holding) head has two... Read More>>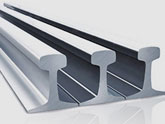 The Development of Rail Track
The technology of rail tracks developed over a long period, starting with primitive timber rails in mines in the 17th century. Early rails were used on horse drawn wagon ways, originally with wooden rails, but from the 1760s using strap-iro... Read More>>
Types of Track Bolts
Track bolts are used to fasten rail ends together at a joint. The track bolt is a bolt inserted through a hole in rail tie with a fanged nut that embeds into the lower surface of the tie. The sizes of track bolts are varying with the requi... Read More>>
Get In Touch
We receive enquiries in
English, Español (Spanish), Русский язык (Russian), Français (French) and العربية (Arabic)
. Our professional team will reply to you within one business day. Please feel FREE to contact us!