Rail Nylon Insulator
Rail nylon insulator is installed between rail and tie plate, for adjusting rail gauge and electrically insulating railroad rails, clips and bolts from the interior of a concrete tie or sleeper. Its function is the same as a rail pad, but it is thicker than rail pad. For the high speed or high load train, it is a necessary fastener part .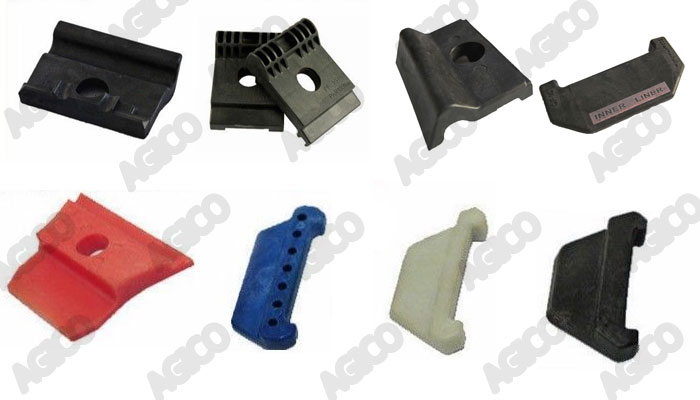 As a leading rail fastener manufacturer based in China,we are adhering to "quality first "policy .AGICO pay grate attention to quality control management.We have been granted ISO9001-2008 certificates and have received the porduction license of China's Railway Ministry on railway product. We have a full set of inspection instruments to ensure all our rail nylon insulator porducts are high quality and up to customers' requirements. In addition, we also produce many other railway fasteners,such as rail clip、tie plate 、spike、rail bolt railway fishplates, railway fastening system and so on.
Properties of Rail Insulators
The insulators apply to rails such as 60kg (UIC) rail, 52kg rail, 136RE Rail, 90R, 75R, 50R, 60R etc. It's material:Nylon-6 or Nylon-66 with glass filler content 20% to 35% depending on specification. These material are UV stabilized and available in natural color or as per requirements.AGICO can supply different kinds of rail insulators which suit E clips ,SKL and Nabla fastening systems ,others depend on the specific requirementsfrom the clients .
The Properties of Our Rail Nylon Insulators are as Follows:
| Technical Parameter | Unit | Technical Requirement | Value |
| --- | --- | --- | --- |
| Density | g/cm | 1.3-1.45 | 1.45 |
| Tensile Strength | Mpa | ≥170 | 178 |
| Elongation | % | ≤4.4 | 4.0 |
| Bending Strength | Mpa | ≥250 | 290 |
| Impact Strength (No gap) | KJ/m2 | ≥80 | 85 |
| Melting Point | ℃ | 250 - 270 | 270 |
| Insulation Resistance | Ω | ≥1×108 | 5×108 |
| Glass Fiber Content | Ω | 30-35 | 35 |
| Hardness | HRR | ≥110 | 118 |
Types of Rail Insulators
We supply E-type rail insulators and guide plates for SKL rail fastening systems and Nabla fastening systems. The material of rail insulator is usually Reinforced Nylon 66 (PA66), with the color white, dark brown or black. Materials and colors can also be customized according to the customers' requirements.
E-type Rail Insulators
E-type rail insulators are used in E-clip fastening systems, together with E-clips, rail shoulders and rail pads, whose function is to cushion the passing train's stress onto the rail and make the rail back to position afterwards, similarly used as a rail pad under the rail track.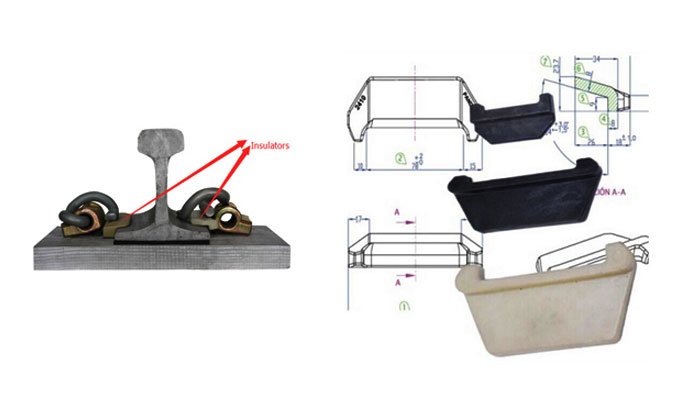 SKL Rail Insulators
SKL rail insulators are also called guide plates, used in SKL fastening systems, combined with SKL tension clips, screw spikes, plastic dowels, flat washers and rail pads.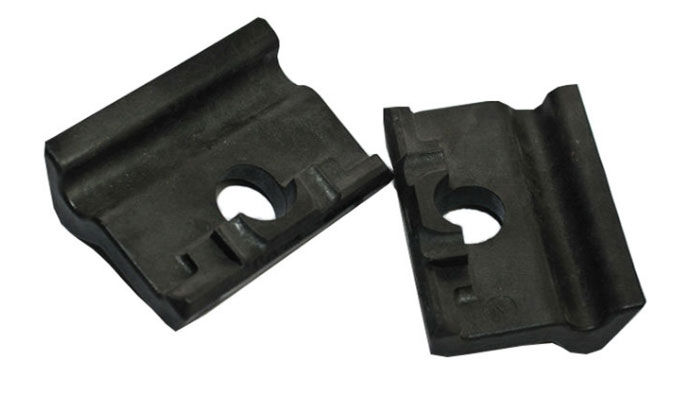 Nabla Rail Insulators
Nabla rail insulators are used in Nabla clip rail fastening systems, working together with other fastener parts including Nabla clips, screw spikes and spring washers.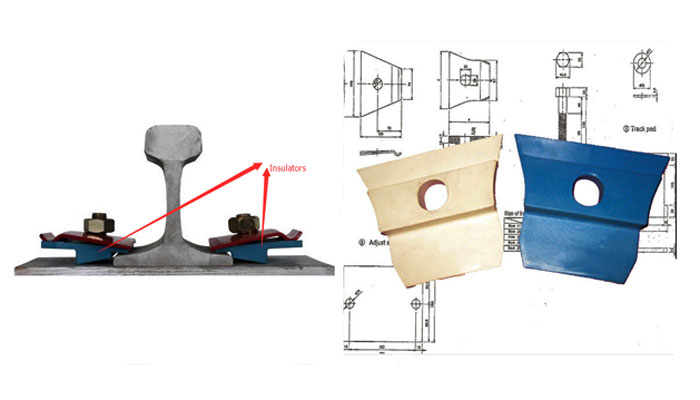 Packaging Detail: Double-layer woven bag + Free fumigation wooden pallet or according to clients' requirement.
Delivery Detail: Shipment within 35 days upon the receipt of order.

If you're interested in our products or have any questions, please don't hesitate to contact us! We are always at your service!
Get In Touch
We receive enquiries in
English, Español (Spanish), Русский язык (Russian), Français (French) and العربية (Arabic)
. Our professional team will reply to you within one business day. Please feel FREE to contact us!