Rail Joints
Rail joint, in rail terminology, also called fishplate, splice bar or joint bar, is used for connecting two rail tracks together.The name is derived from fish, a wooden bar with a curved profile used to strengthen a ship's mast.The top and bottom edges are tapered inwards so the device wedges itself between the top and bottom of the rail when it is bolted into place. In rail transport modelling, a fishplate is often a small copper or nickel silver plate that slips onto both rails to provide the functions of maintaining alignment and electrical continuity. It reduces the influence of wheels to rail links section, and ensure the stability of the train running. Rail joint can be divided into three types, such as rail joints for light rail, fishplates for heavy rail and rail joints for crane rail.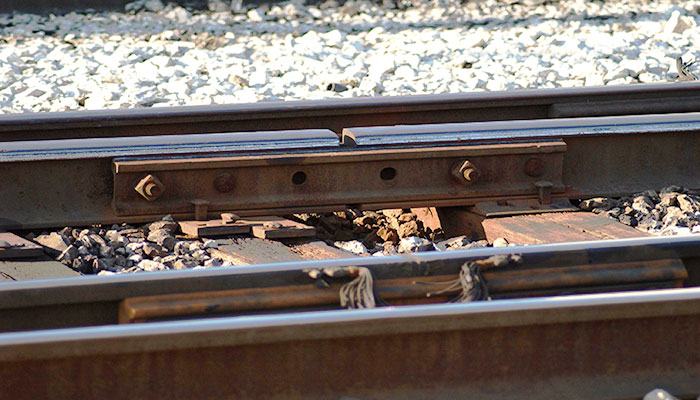 Do you Know the History of Fish Plate?
The device was invented by William Bridges Adams in May 1842, because of his dissatisfaction with the scarf joints and other systems of joining rails then in use. He noted that to form the scarf joint the rail was halved in thickness at its ends, where the stress was greatest. It was first deployed on the Eastern Counties Railway in 1844, but only as a wedge between the adjoining rails. Adams and Robert Richardson patented the invention in 1847, but in 1849 James Samuel, the engineer of the ECR developed fishplates that could be bolted to the rails.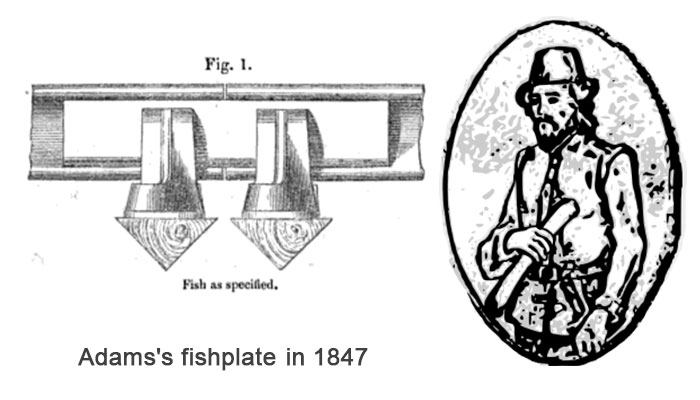 AGICO is a Professional Rail Joints Supplier
AGICO can provide one-stop service for various rail joints including development, manufacture and export service. It is appointed supplier of CREC, CRCC, CCECC, in railway construction projects of 23 countries. More than 50 types of standard and nonstandard fishplate DIES supplied. AGICO has build a long-term cooperative relations with many international companies such as A&K, ATT, Vossloh and UT.
All the fish plates provided by AGICO meet the international standard requirements, including BS, UIC, GB, AREMA and DIN, etc. In addition, customized products can be provided with customer's specific requirements. So far AGICO has at least 500 containers quantity annually for export, 100% customer satisfaction.Our technical team has rich experience of the design and production of customized kinds of Chinese and foreign rail joints, and we can also make necessary adjustments and modifications.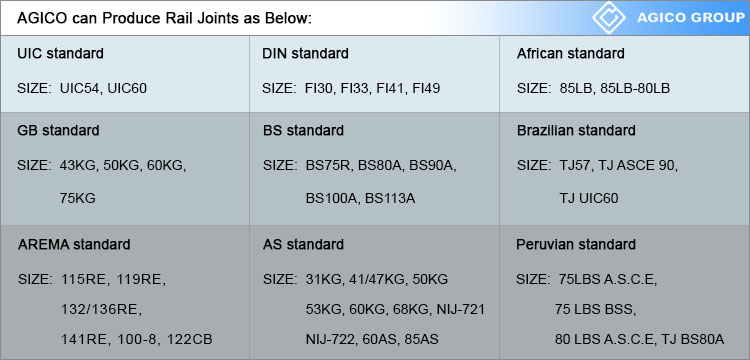 Best-Seller Products as Below:
UIC54 Rail Joints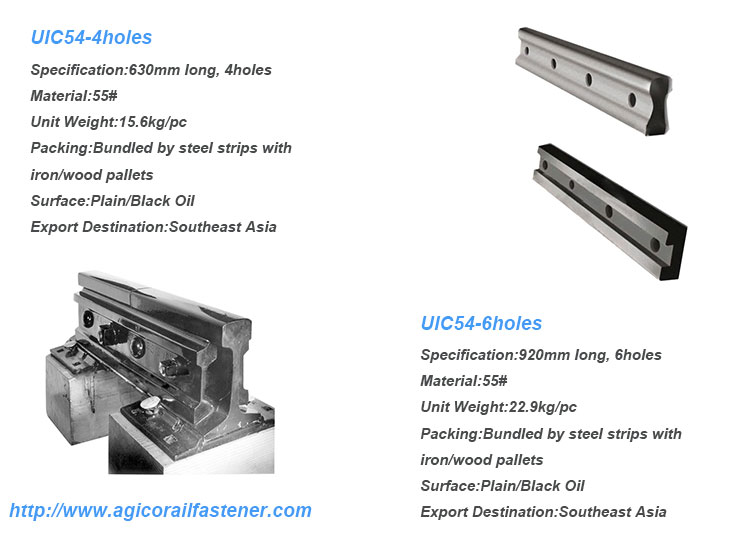 UIC60 Rail Joints: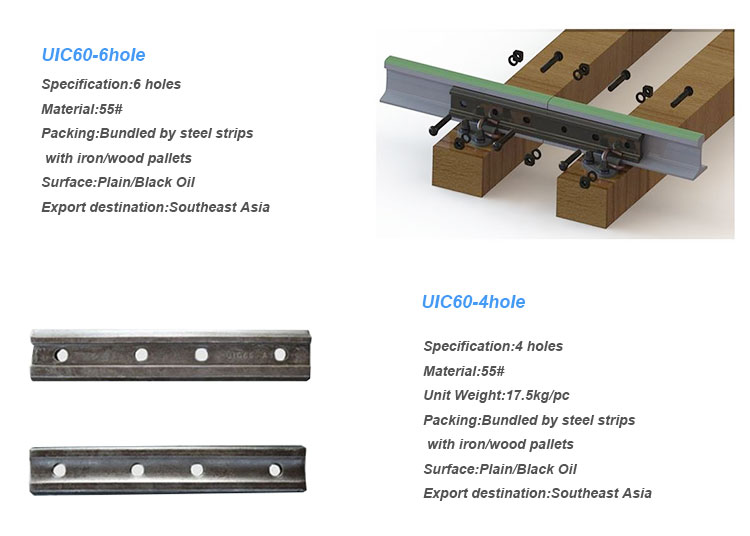 115RE Rail Joint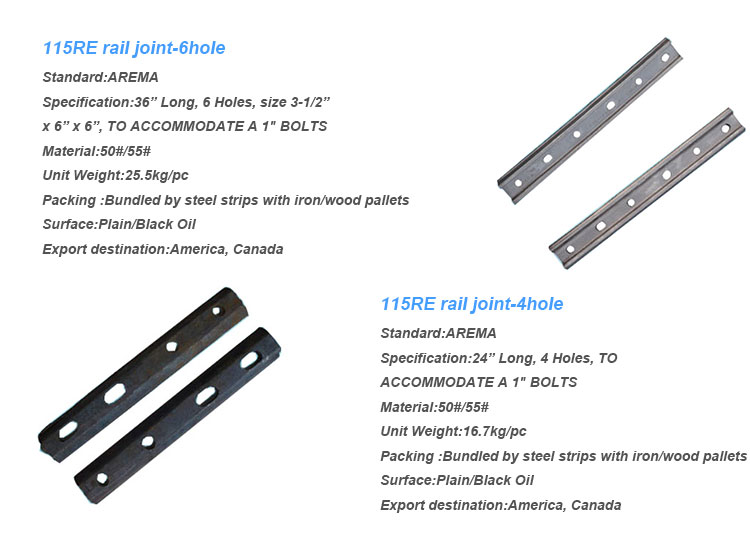 132RE Rail Joint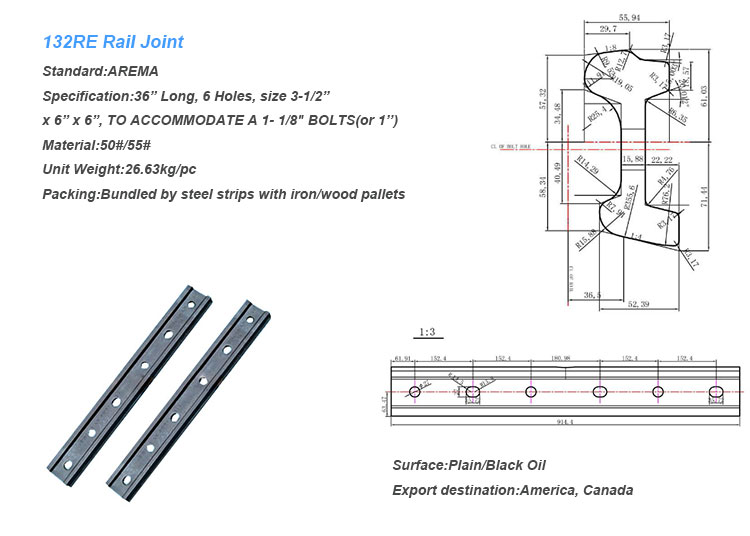 FAQ about Rail Joint
1. Q: Please quote on BS80A.
A: Can you please supply the drawings of full sizes with detailed technical specifications of the wanted fishplate, to match our available drawings whether totally same or not.
2. Q: We need the delivery time.
A: It depends on whether the mould available. If with available mould, we can start to produce any time with 40-ton daily apacity. If without available mould, it takes 10 days to develop the mould after receiving prepayment
3. Q: Will that be possible for us to receive pieces of samples for approval?
A: Sure. The samples can be supplied for free but the freight counts on you.
4. Q: Payment term?
A: 30% prepayment, and the balance 70% against B/L copy,L/C or negotiable.
5. Q: How long will it be the quotation valid?
A: The validity is 15 days in general, but also depends on the quantity and special conditions. It will be shown in every quotation.
6. Q: What is MOQ?
A: 20'' container in general, depending on whether enough stocks available for small quantity; customized products accepted.
7. Q: How is the rail joints quality?
A: Quality of AGICO rail joints is guaranteed by a special heat treatment. When the train is running, rail joints (railway fish plates) play an important role in connecting and fastening rails as well as keeping the integrity of rails. While the speed and load of rails are increasing, it requires a higher performance to the property of rail joints. A rail joint can connect two rails with six bolts. Relying on the up and down shoulder slopes and the fastening with rails, it can support the large load during the train's runtime, the fretting wear and other complex stresses. The property of railway joints always changes with the rate of cooling. What' s more, during the heat treatment , the hardness and the impact of rail joints can be different according to the degree of water quenching. After pouring were conducted, two types of the process which are called immediate quenching and tempering processes can give out some important information. Because of the slow drop of temperature, it can lead to a high degree of the hardness. So the mechanical property of rail joint becomes more advantageous
8. Q: How to do maintenance for rail joints?
A: To ensure the fine use of railroad equipments, we need to maintain the rail joints from time to time in order to improve quality and avoid any accidents. Assembling and maintenance standards for rail joints: STEP1: Check if the bolts are well fastened and make sure no wounds or cracks on the surface STEP 2: Keep each connected rod and locking device clear from cracks. No grinding or corrosion on the rod body or abrasion pin hole less than 1mm. Good insulation shall be maintained. STEP 3: All iron rods' connection is with good insulation and the insulation link between lock iron and gauge rod are both fine. At uninsulated condition, 3mm gap should be kept and not into other parts. And bolts are fastened well. STEP 4: Ensure no cracks on the shell of the switch machine to assembling rail joints, and the installation is firm under good lock condition. STEP 5: Ensure the oil tank circuit in good protection without damage or being buried by ballasts or other debris.
As a leading manufacturer of rail fasteners based in China, AGICO also produces many other rail fasteners, such as fish bolt, rail sleeper, rail spike, tie plate, elastic rail clip, rail clamp, rail shoulder, rail fastening systems and so on.
Get In Touch
We receive enquiries in
English, Español (Spanish), Русский язык (Russian), Français (French) and العربية (Arabic)
. Our professional team will reply to you within one business day. Please feel FREE to contact us!