AREMA Standard Rail Joints for Sale----AGICO
With more than 50 years of experience in railway products, AGICO GROUP is committed to creating new design, more excellent performance, quality more secure rail joint products. The rail can be constructed into a track in two ways, jointed by rail joints together using other rail fastening products or welded one by one. Usually, the previous approach is more common. Two rails are joined by rail joint bars and track bolts. The track must be connected to the joint, so that the track will be as a continuous beam with a uniform surface and alignment. Therefore, check all the fish plate and its accessories before they installed in the railroad line is very necessary.Rail joint (fishplate) always makes an important role in rail connection. Rail joint can be divided into light rail, heavy rail and crane rail.Here we would like to give a brief introduction to
AREMA Standard Rail Joints .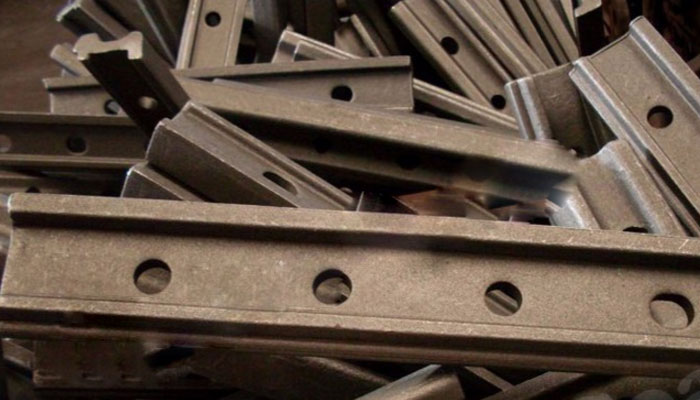 AREMA Standard Rail Joints for Sale
Mechanical Property:
Standard: AREMA 2010
Material: Chinese steel grade 55#
Size: 115RE, 119RE, 132RE, 136RE, 141RE
Tensile strength Rm: ≥690 Mpa
Yield strength Rel / Rr0.2: ≥480 Mpa
Elongation A : ≥12%
Reduction of Area Z: ≥25%
When it comes to sourcing railway fishplate, AGICO is always your reliable and trusted partner. Because we are:
With over 60% market share in Chinese railway field for rail joints.
A long-term supplier of CRCC for both domestic and overseas contracted rail projects in over 50 countries all over the world.
Over 30 kinds of standard and non-standard fishplates can be customized for global buyers.
Granted ISO9001-2000 certificate and with approved license from China's Railway Ministry to produce railway products.
Consistent quality guaranteed by 16 strict quality testing steps.
How is the rail joints quality?
Quality of AGICO rail joints is guaranteed by a special heat treatment. When the train is running, rail joints (railway fish plates) play an important role in connecting and fastening rails as well as keeping the integrity of rails. While the speed and load of rails are increasing, it requires a higher performance to the property of rail joints. A rail joint can connect two rails with six bolts. Relying on the up and down shoulder slopes and the fastening with rails, it can support the large load during the train's runtime, the fretting wear and other complex stresses. The property of railway joints always changes with the rate of cooling. What' s more, during the heat treatment , the hardness and the impact of rail joints can be different according to the degree of water quenching. After pouring were conducted, two types of the process which are called immediate quenching and tempering processes can give out some important information. Because of the slow drop of temperature, it can lead to a high degree of the hardness. So the mechanical property of rail joint becomes more advantageous.
Get In Touch
We receive enquiries in
English, Español (Spanish), Русский язык (Russian), Français (French) and العربية (Arabic)
. Our professional team will reply to you within one business day. Please feel FREE to contact us!