Rail Plastic Dowel
Rail plastic dowel is also called rail plastic sleeve/plastic insert/concrete dowel/ concrete insert,.Railroad Plastic Dowel is a counter-party of Screw Spike, which is pre-inserted into the concrete sleeper. When we use the rail fastening system, the plastic railroad dowel performed as the fastening base. Our plastic dowel is made using either HDPE or PA66 + GF30% and the product color is available in white, black and dark brown.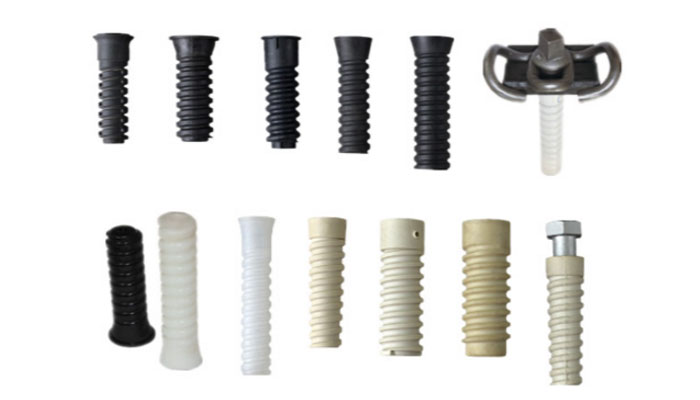 Functions of the Rail Plastic Dowel
In a set of rail fastening system, the plastic dowel can be considered as the fastening foundation, as it needs to be pre-inserted into the concrete sleeper separately before assembling the rail fastening system parts. It is used to guarantee the good connection and linkage of the rail fastening system with the concrete sleeper, with screw spikes or bolts.On the other hand, similarly as the rail pad or rail insulators, the plastic insert's another function is to insulate the fastener parts from the ties. Therefore, the quality of this small pre-inserted part into the concrete sleeper, especially its strength and fatigue life, is of great importance to the whole rail line.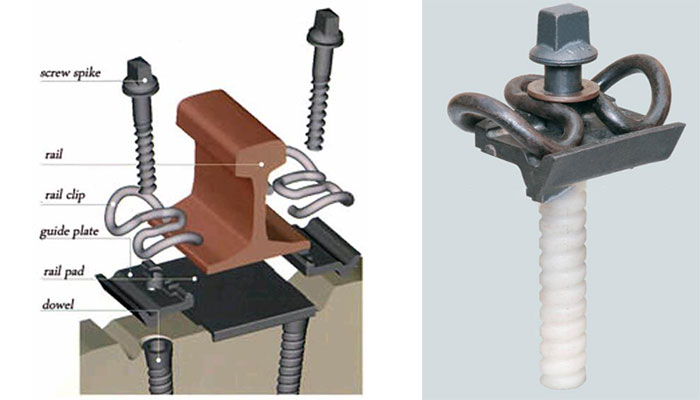 Why Choose AGICO Rail Plastic Dowel?
Anyang General International Co., Ltd., (AGICO) is specialized in manufacturing and supplying railway products, It Is one of the most powerful railway equipment suppliers in China. AGICO supply high quality railway products with the most competitive price.The railway products include: railway fishplates, railway fastening system, and related fastening parts for railroad construction. Railway fastener include: rail clip、tie plate 、spike、rail bolt etc. AGICO railway products, especially the rail clips and rail joint bar has sold more than 20 countries around the world. Production capacity: 100,000pieces of rail clip and 100MTS of rail joints. In addition, our company have established long-term stable cooperative relations with the A&K, Vossloh, UT and other international railway group.On the oher hand, AGICO is a professional manufacturer of railway fasteners and standard components. We are one of the largest railway fasteners manufacturers in China, and have got ISO9001:2008 certificate and the production license of China railway Ministry.
Furthermore,all kinds available according to customer`s drawings and samples.
Types of Rail Plastic Dowel
Rail Plastic Dowels are always used in SKL fastening systems, and can be classified according to its materials needed: of PA66 or HDPE, depending on different technical specification requirements from clients, as below:
Name
Rail Plastic Dowel
Type
For different sizes of screw spikes or anchor bolts
Material
Reinforced Nylon 66 (PA66: Nylon 66.69%, glass fiber 30%, other 1%)
HDPE

Technical

specifications

Density:1.3-1.45g/cm3

Tensile strength: ≥170Mpa

Elongation: ≤4.4%

Bending Strength: ≥250Mpa

Impact Strength(No gap): ≥80KJ/m2

Melting point:250-270°C

Insulation resistance:≥1×108Ω

Glass fiber content:30-35%

Hardness:≥110HRR

Density: 0.95-0.98g/cm3

Tensile strength: ≥19Mpa

Elongation: >80%

Melting point: 170-190°C

Insulation resistance: ≥1×1010Ω

Hardness:≥98A

Color
Yellow, black, white, blue, green, just to name a few.
Get In Touch
We receive enquiries in
English, Español (Spanish), Русский язык (Russian), Français (French) and العربية (Arabic)
. Our professional team will reply to you within one business day. Please feel FREE to contact us!