How Much Do You Know About Rail Sleepers?
A railroad tie/railway tie/crosstie or railway sleeper is a rectangular support for the rails in railroad tracks. Generally laid perpendicular to the rails, ties transfer loads to the track ballast and subgrade, hold the rails upright and keep them spaced to the correct gauge.
Railroad ties are traditionally made of wood, but pre-stressed concrete is now also widely used, especially in Europe and Asia. Steel ties are common on secondary lines in the UK; plastic composite ties are also employed, although far less than wood or concrete. As of January 2008, the approximate market share in North America for traditional and wood ties was 91.5%, the remainder being concrete, steel, azobé (red ironwood) and plastic composite.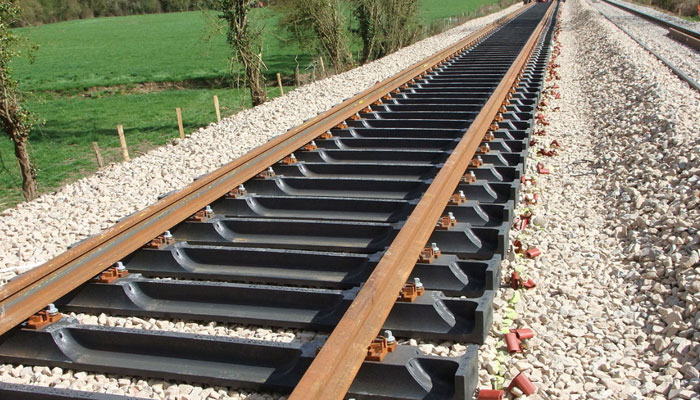 On the railroad construction, wood rail sleepers, steel rail sleeper and concrete rail sleeper are the three most common rail sleepers. Tracing the source, rail sleeper originates from wooden sleeper. In the past 100 years, wood rail sleepers are the most widely rail sleepers in railroad, especially in heavy rail and bridge rail. With the development and technical requirements of railroad construction, rail sleepers are now made of varieties materials, such as steel, concrete and rubber. Today, I will show you AGICO's rail sleepers and get you to know more about the features of different types of rail sleepers!
AGICO is a rail sleepers manufacturer,and we can also supply steel railway sleeper of both UIC865 Series Steel Sleepers and BS-500 Series Steel Sleepers.
Technical Specifications of UIC865 Series Steel Sleepers:
UIC865 Series Steel Sleepers
Size
Standard
Material
Length
UIC54
UIC865
According to customer's requirements
According to customer's requirements
UIC60
Technical Specifications of BS-500 Series Steel Sleepers:
BS-500 Series Steel Railway Sleepers
Size
Standard
Material
Length
BS75A
BS 500-2000

SAE1522

ST52.3

20MnK

SS490

Q255A

1830mm

1900mm

2000mm

BS75R
BS80A
BS90A
BS100A
BS113A
If you're interested in our products or have any questions, please don't hesitate to contact us! We are always at your service!
Get In Touch
We receive enquiries in
English, Español (Spanish), Русский язык (Russian), Français (French) and العربية (Arabic)
. Our professional team will reply to you within one business day. Please feel FREE to contact us!