Rail Gauge Rod
Rail gauge rod are designed for installation at weak point in truck ,areas with poor ballast,etc.The road hold trucks to gage by prevening spreading of rails.Rail gauge rod is also called gauge tie rod or gauge tie bar.They will reduce the need to respike the track an will prevent tilting of rails.AGICO is a professional rail gauge rod manufacture, we can supply standard gauge rods for 56-½" track and rails of 60-140 lbs, for both non-insulated and insulated type, with approved certificate of ISO9001:2008 and CRCC authorization. Besides, we produce various kinds of gauge tie rods, such as AREMA 1-1/4 "insulated gauge tie rod, and other gauge rod used in UIC, BS rails, with length of 600mm,762mm,900mm,1435mm, etc.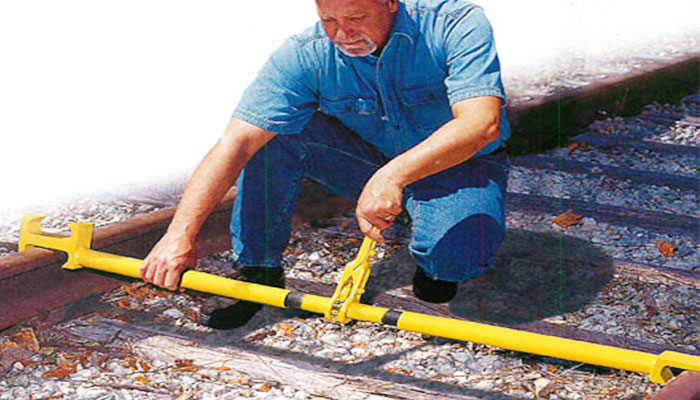 Technical Specifications of Rail Gauge Rod
As a professional rail gauge rod manufacture,and a standard gauge rod with two ends includes components of 1pcs rod, 4pcs iron card, 4pcs flat washer, 4pcs nuts, 4pcs spring washer, no matter for non-insulated, or insulated types.
Non-standard gauge tie rod
,
It is to be produced by customizing depending on customers' drawings and specific requirements.
Application:
43,50,60,75kg/m rail
Operating temperature:
-40~60 degrees Celsius
Standard:
TB/T1780-86
| No. | Part | Quantity | Specification | Material |
| --- | --- | --- | --- | --- |
| 1 | rod | 1 | M30 M36 | 3# |
| 2 | iron card | 4 | I type II type | KTH350-10 |
| 3 | plain washer | 4 | M30 M36 | 3# |
| 4 | nut | 4 | M30 M36 | 3# |
| 5 | spring washer | 4 | M30 M36 | 65Mn |
The Important Function of the Rail Gauge Rods
The main cause of derailments in industrial rail yards is over-wide track gauge.There are some railways that with track circuit, then it should use the insulated rail gauge rod which adopts high insulation resistance material to separate the circuit between two rails apart. Rail gauge may deviated if gauge tie rod is serious lacked, it may cause derailment or even overturned when the train passing by.
Rail wheels can exert as much as 4000 lbs. of side pressure against the rails. If the ties are spongy, they can lose their spike-holding strength and allow the rails to be pushed over from wheel side pressure. As an important accessory for railroad tracks, rail gauge tie rod helps to improve the rails' lateral stability and also the ability to keep rail distance.A between-the-rails derailment requires crane-lifting to put the rail or engine back on the rails as well as extensive track repair.Made of two clamping devices at either end to fix railway tracks and a connected rod in the middle, a rail gauge rod fastens two parallel railways with certain gauge railway and prevents the rail from sliding.For some weaker sections of rails, like in sharp curves, turnouts, bad ties and temporary track, rail gauge rods are quite necessary, they help to prevent the rail track from unbalanced longitudinal tension and keep regular rail gauges.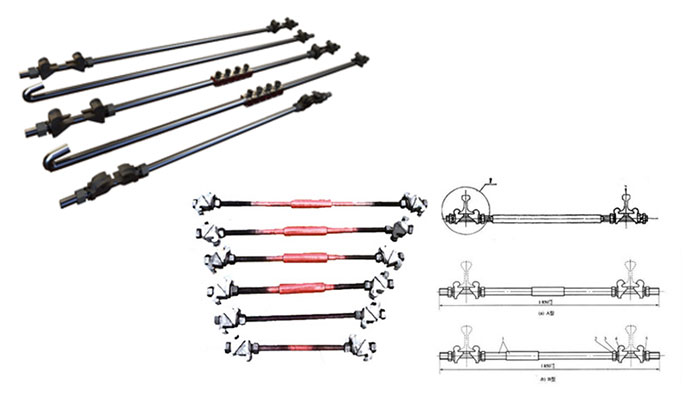 AGICO is a Professional Rail Gauge Rod Manufacture
Good quality and reasonable price will promise our products strong competitiveness.
1. High Intensity
2. High Durability
3. Excellent Chemical Stability
4. Easy Operation
If you're interested in our products or have any questions, please don't hesitate to contact us! We are always at your service!
Get In Touch
We receive enquiries in
English, Español (Spanish), Русский язык (Russian), Français (French) and العربية (Arabic)
. Our professional team will reply to you within one business day. Please feel FREE to contact us!