Railroad Spikes
Rail spike, also called cut spike or crampon, is a nail used to fix rail fastening system to the track. Its main function is to keep the rail in gauge.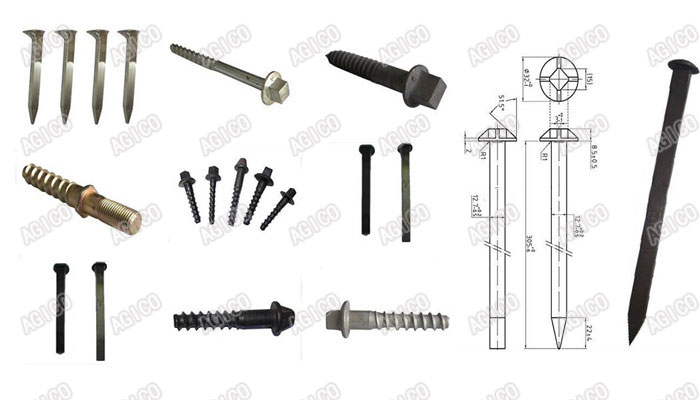 Dog Spike
Dog spike, usually used to fasten T-shaped railway track to the wooden sleepers, to insure the rails and tie plates tied in the track. Dog spike has a pointed penetrating head with square shank, and the underside of the spike head is sloped to compromise the top of the rail base.
In our workshop, various of sizes Dog spikes are available to be customized of the penetrating length of spikes. The commonly used spikes are the 5/8" ×6" and 9/16" ×5-1/2" for smaller rail sections, especially in North America, US market, usually packed in either 200lbs, 100lbs or 50lbs kegs.
Our dog spike or dog spikes are manufactured in accordance with a number of international standards such as GB, AREMA or ASTM, BS, UIC material, in either carbon or stainless steel.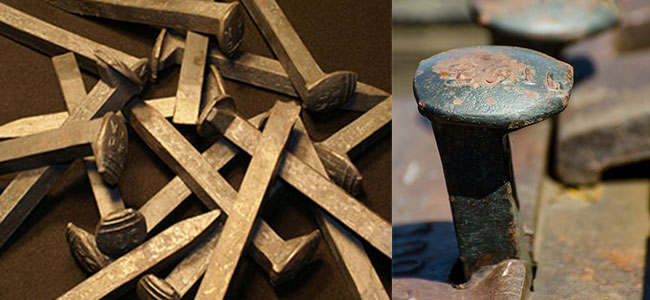 Specifications for Dog Spikes:
Specification
Material
Surface
Surface
5/8×6 ''
A3,Q235, 45#,55#, etc
According to customer needs.
According to customer's drawings or samples.
9/16×5-1/2 ''
3/8''×3-1/2 '';
3/8''×3-1/2 ''
Other kinds
Technical specifications of Road Spike
Standards: AREMA, UIC or others following customer needs
Model:according to customer needs
Type: spike
Head type:various kinds
Neck type:Various kinds
Function:to fix rails
Applied range:to fasten rails of the railroad bed
Body type: various kind
Length available:10--1000(mm)
Tolerance:according to customer needs
Surface finish: plain oil, black, HDG, galvanized, etc.
Material:Q235、35#、45#、60#、16Mn、65 Mn、40Cr、20MnTiB、35CrMo、42CrMo
Grade:3.6、4.6、4.8、5.6、5.8、6.8、8.8、9.8、10.9、12.9
Spike specifications:According to customer drawings
Free sample and product customizing available
We have various types of dog spikes for sale, If you need any other type of railroad spikes, please contact us.
Get In Touch
We receive enquiries in
English, Español (Spanish), Русский язык (Russian), Français (French) and العربية (Arabic)
. Our professional team will reply to you within one business day. Please feel FREE to contact us!